Hello guys,
I stumble upon this project : https://www.impervious.ai/
"Impervious API is a programmatic layer that sits on top of the Bitcoin Lightning Network, i.e. "Layer 3.""
Truly peer-to-peer, Censorship and surveillance resistant, Default encrypted, Payments built in
It uses IPFS for storing files. And also Lightning, Decentralized Identifiers (DIDs), a DIDComm system, WebRTC.
And it seems pretty similar to Holochain in its goal.
I know there is some excitement in the bitcoin community about it.
I find the project very interesting and was surprised by the similarities in the goal with Holochain (not the approach).
Here is an article about it : Impervious Browser: Functionality Overview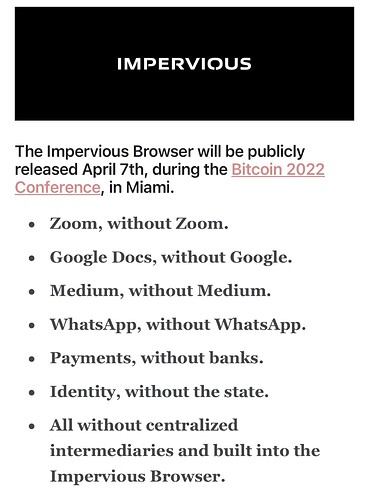 If you have any ideas/comments/critics about it, I would love to hear them.