Diving into the world of Holo/Holochain is exciting, inspirational, and for non-technical folks…daunting. In January, 2020 there was this amazing post on the HoloForum: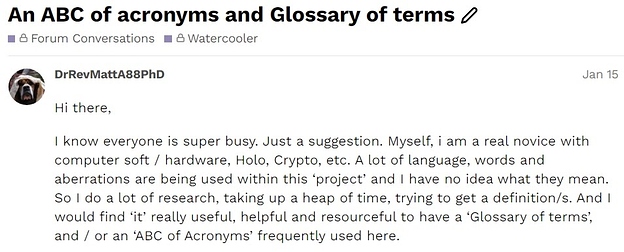 Can you relate? I sure could. I'm not techy, but I am solidly in support of the Holo vision and the building of Holochain applications! Most of the videos were over my head, and I felt I couldn't even begin to understand some of the basic concepts in the world of Holo/Holochain, now called the "Holoverse". Thank you, DrRevMatt for that great nudge!
Over the last several months, DrRevMatt, Holo team member Lucas Tauil, and myself have been meeting weekly by Zoom to work on the Holo Beginner Glossary, which has more basic definitions and is now available to view to the public. There is a wonderful technical glossary on Holochain.org, if you want a deeper dive!
WE COULD USE YOUR HELP! We are looking for suggestions of articles, videos, etc., that you would consider better suited for beginners and/or non-technical folks. Are there words that confuse you? Could you upgrade a definition so it's even more beginner-friendly?
This project is a work/play of volunteers, and we hope this effort is helpful! Please feel free to contact me at @MsAnita through the HoloForum or the HolochainForum.