I came to think about a design pattern that could be useful for bridging to services outside of Holochain.
Is this doable? Is this already being done? Or is something in the hc architecture stopping this kind of approach.
Example case
An hApp that stores files. A Dropbox clone.
Folders, permission information, comments, whatnot are stored in holochain.
File BLOBs are stored in IPFS.
We don't want the user to have to run an IPFS node, we need an IPFS bridge server similiar to the one https://infura.io/ is running.
If Holochain and our DNA could act similar to an oauth server we could have something like this: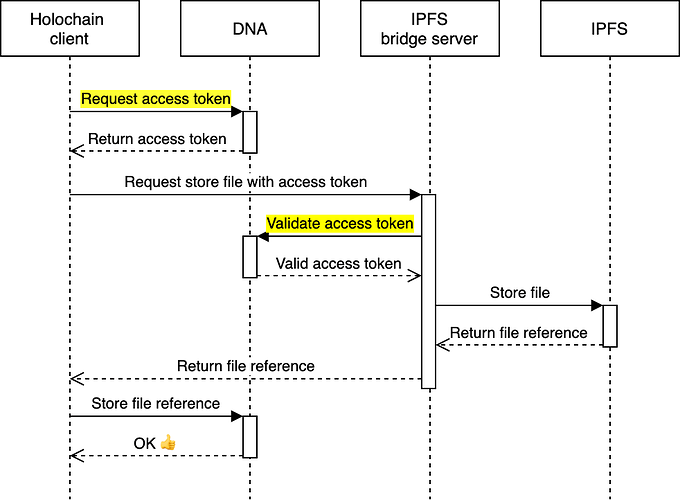 Request access token
The client is already authenticated but needs a token to prove it to the external service. Can the client request something similar to a unique oauth access token from the DNA in a secure way?
Validate access token
The external service would need to check in with the DNA to validate the token, how can this be achieved?
For this there has to be an http API endpoint somewhere that serves as a bridge from the outside world back in to holochain. Possibly Holo.host will/should provide this kind of functionality for apps hosted there?
…
@pauldaoust, @pospi, @guillemcordoba and others, what do you think, is this doable? The pattern would open up a LOT of new possibilities.